A romantic view that sits atop the North Carolina mountains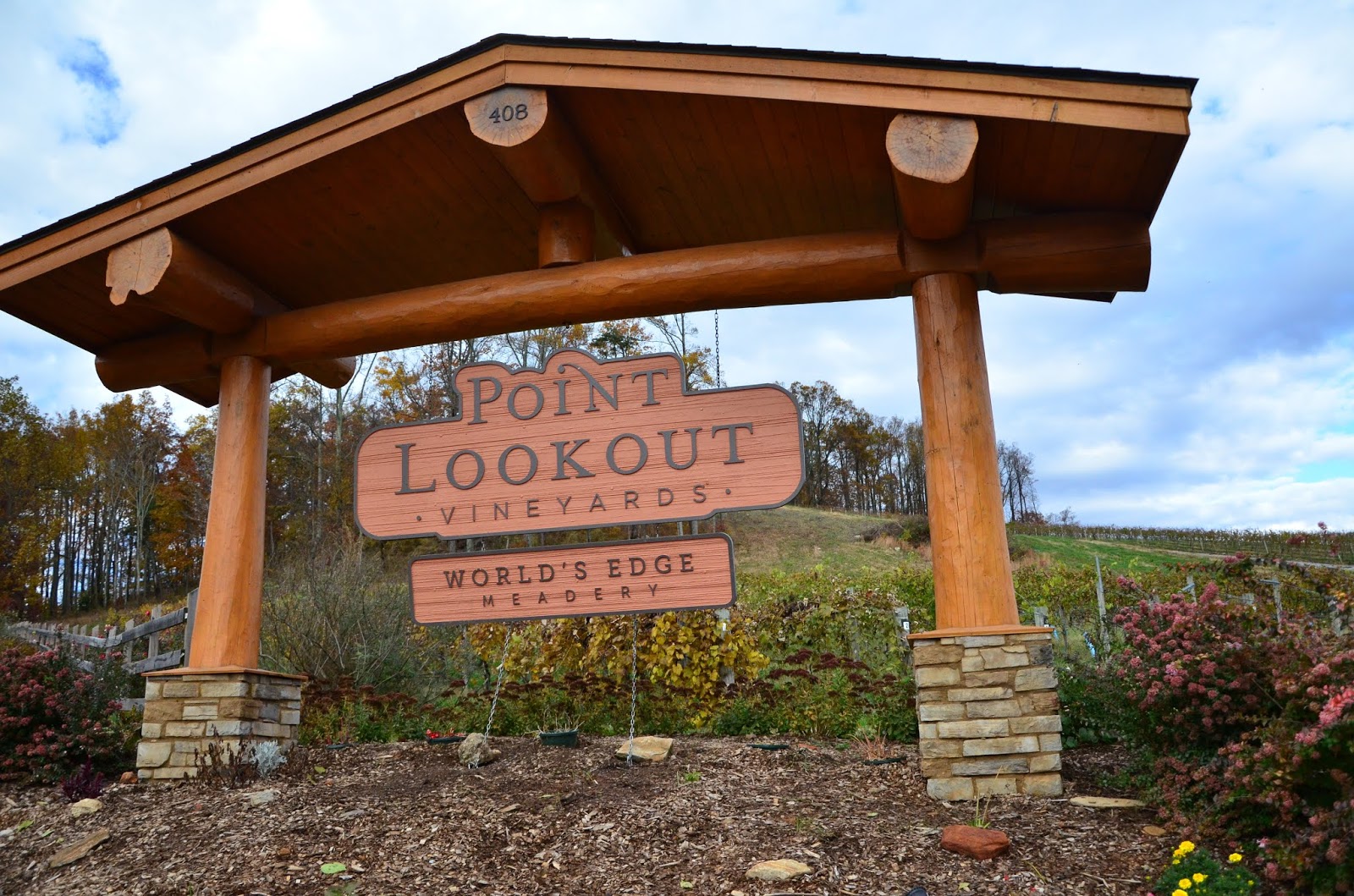 OUR ROAD TO 100 NORTH CAROLINA WINERIES ...
#83
The latest winery to open in North Carolina is located less than 10 miles from downtown Hendersonville and about 25 minutes southwest of Lake Lure. Point Lookout opened its doors in June, 2018. Sitting at an elevation of 3,000 feet, it's the perfect location to share a bottle of wine as you take in a 30-mile panoramic view of the Blue Ridge Mountains on a crisp, cool, Fall day. The winery is located on Point Lookout Mountain for which it is named. In addition to a winery, Point Lookout also offers up mead under the name World's Edge Meadery, in an open-air pavilion with a stone fireplace. The winery is a perfect place to host events such as weddings, private events, live music, dinners and more.
While visiting the Asheville area for our 10-year wedding anniversary in November, we decided we had to pay Point Lookout a visit to see what all the buzz was all about. We first stumbled upon them when reviewing the winning wines from the 2018 NC Fine Wines competition where their 2016 Off-Dry Riesling won for Best White Vinifera. Then we began hearing rave reviews from fellow bloggers and knew we had to go check them out.
Point Lookout offers two tasting options – 5 wines and 1 mead, or, 5 meads and 1 wine. The choice was simple. We chose one of each to maximize our tasting adventure! There were a total of 10 wines to sample and 7 meads. We really enjoyed the meads and while Jen's favorite was Calm, a chamomile mead, Dathan gravitated more towards the Orange Blossom mead.
As for the wines, we found them to be young yet well-balanced and definitely a winery to keep your eye on. Between the two of us, our favorites were the Cabernet Sauvignon, the Cliffield Red Blend and the Javine Mocha Red Wine … but in different order of preference. We decided to bring home a bottle of the Beguile, a raspberry mead, which we could both agree on.
This estate vineyard is owned and operated by Mike and Sabrina Jackson. They began planting grapes in 2008 and the wine is made at Windsor Run Cellars in Hamptonville. Following our tasting, we took a stroll around and took in the serenity of the Blue Ridge Mountains.
Triangle Around Town's top 🍷choice: World's Edge Meadery "Beguile" Raspberry Mead
Hours: Sun. - Th. – 12 p.m. to 6 p.m.; Fri. - Sat. – 12 p.m. to 9 p.m.
Tastings are $10 for 5 wines and 1 mead, or, $10 for 5 meads and 1 wine
Visit the web page at http://pointlookoutvineyards.com/ for Facebook for upcoming events.