Learning Wine Blending from a Professional at Raffaldini Vineyards
Jay Raffaldini is a character to say the least. The 'From Wall Street to Wine Street" owner of Ronda's Raffaldini Vineyards has what can be called a very vibrant sense of humor. And that was displayed to its fullest when we attended the annual Assemblaggio blending experience on Nov. 3. He was like that sarcastic chemistry teacher that scolds you for not paying attention but with playful banter – so it seems OK.
Being our first wine blending at Raffaldini, we weren't sure what to expect. And as it turns out, we weren't disappointed in this once a year series of classes. The event as a whole was truly educational for anyone yearning to learn more about wine and blending. Raffaldini led the sold out group of around 70 wine club members and fans of the winery inside the winery's barrel room.
The 2-hour event consisted of two parts – during the first hour Raffaldini took the class through an afternoon of five wines – each one going a little bit quicker than the last. Appearance. Nose. Palate. Conclusion. Wines ranging from light to full-bodied. We sampled Sangiovese, Nero D'Avola, Montepulciano Passito, Sagrantino and a Montepulciano Petit Verdot Oak Co Fermentation Passito. Using a tasting grid to help guide us giving way to the taste, aroma and structure of each, he educated us on what to look for.
The real work began during the second hour, where he turned loose the 9 tables. The mission – to ultimately come up with the perfect blend. We were fortunate to have at our table a couple who has been to this event for the past 10 years as well as a trio of ladies who have also attended this event previously and offered up some good tips for us as we all turned into mad scientists and began the blending process. As time ticked by, the pressure was on to not only complete our perfect blend but name a spokesperson, decide amongst the teams at the table which blend to present to Jay along with a name for the wine! Good thing we work best under pressure!

Raffaldini visited table after table, as each spokesperson stood up to describe the wine and its name. He tasted each, critiqued each, and you just hoped it wasn't your wine that he poured down the drain (which he did with table 6's wine). We chose to go big or go home, with a nice, big tannic wine with just a little acidity to mellow it out. Dathan, our fearless leader, stood up to present our wine by stating while the others were striving for their personal favorite, we were going for the double gold, best in show wine – and why not use the best wines to make this a reality.
Not to biased, but we do believe our table presented one of the best blends of the afternoon, X Famiglia. Our wine consisted of a secret blend of Sangiovese, Nero, Sagrantino and Montepulciano Petit Verdot. Well, not too much of a secret, since we had to reveal our blending percentage to the crowd.
This event was one on our bucket list and we were so fortunate to be able to attend this year. We had an amazing time, learned a lot and look forward to taking our newfound knowledge from Raffaldini and applying it to our future wine tasting adventures ... and perhaps continue to experiment with some blending of our own.
Related Story: Over A Glass: From Wall Street to Wine Street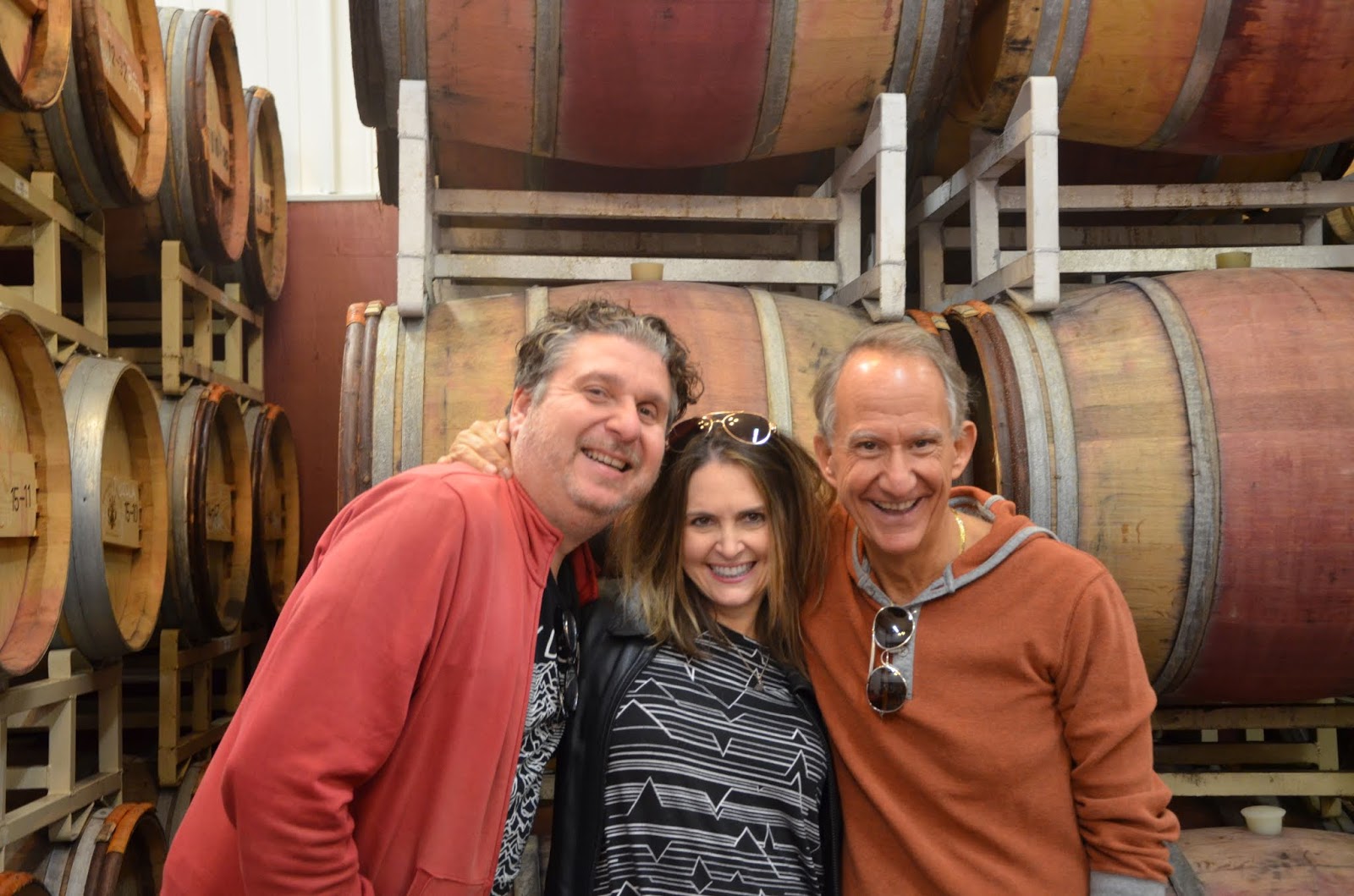 Triangle Around Town's Dathan and Jen with Jay Raffaldini