Addison Farms quaint charm lies just north of Asheville
OUR ROAD TO 100 NORTH CAROLINA WINERIES ...
#81
We first met Jeff and Dianne Frisbee of Addison Farms Vineyard in Leicester at the inaugural NC Wine Bloggers summit in March of 2018. While talking with them and then having the opportunity to try their wine, we knew we needed to pay them a visit soon, especially since we had just started our Road to 100 North Carolina Wineries series. It took us almost 8 months, but we finally planned our trip out to the Asheville/Hendersonville area and it was time to check them out!
Related Story: Inaugural NC Wine Blogger Summit brings Winemakers and Bloggers together
We arrived in Asheville on a November Sunday morning and headed straight for Vortex Donuts because that's what you do when you're in Asheville … in addition to Biltmore house, the breweries, the food scene and some hiking! We had a 2 p.m. appointment with Jeff at Addison Farms to interview him for our Over A Glass series and the vineyard is only a short 20 minute drive (or 14 miles) northwest of Asheville. When we arrived, we drove up on what almost seemed like someone's property. Perhaps because Addison Farms is a family-owned and operated vineyard having been in the family for 4-generations. The vines overlook the serenity of the mountains while around the front side of the tasting room the cows are grazing. It was a windy day but also a beautiful Fall day in the Blue Ridge Mountains.
The Frisbee's began the vineyard and winery in 2009 as a way to preserve the family farm. Initially as a tobacco farm, there are currently six varieties planted – Cabernet Sauvignon, Cabernet Franc, Sangiovese, Montepulciano, Petit Verdot and Petite Manseng. In 2011, the first fruits were produced and in 2012 the tasting room opened. To hear more about Addison Farms from Jeff himself, check out our Over A Glass.
Related Story: Over A Glass with Addison Farms
After we concluded our interview with Jeff he took us on a tour of the barrel room before heading back to the tasting room to taste some wines. We went through seven wines starting with a mead and ending with the Cabernet Sauvignon/Petit Verdot blend, Coming Home 2013.
Producing around 1,000 cases per year, Addison Farms wines will tend to be on the lighter, acidic side rather than tannic. Jeff believes wines should be paired with food and that is what he strives for by producing lighter bodied wines. So, when we purchased a bottle of the Red Dress 2015, a Montepulciano, we decided to pair it with a pasta Bolognese dinner while we were vacationing in Asheville.
Next time you take that trip out to Asheville, consider a scenic 20 minute drive up to Addison Farms Vineyard and add it to your itinerary.
Triangle Around Town's top 🍷choice: 2015 Red Dress, blackberries and cherries with a hint of spice - paired well with pasta bolognese
Hours: Year-round Friday and Saturday: 12-5 p.m. and Sunday: 1-5 p.m.
Tastings are $10 + tax for 5 wines or $14 for 7 wines + reserve wines
Visit the web page at http://www.addisonfarms.net/ for Facebook for upcoming events.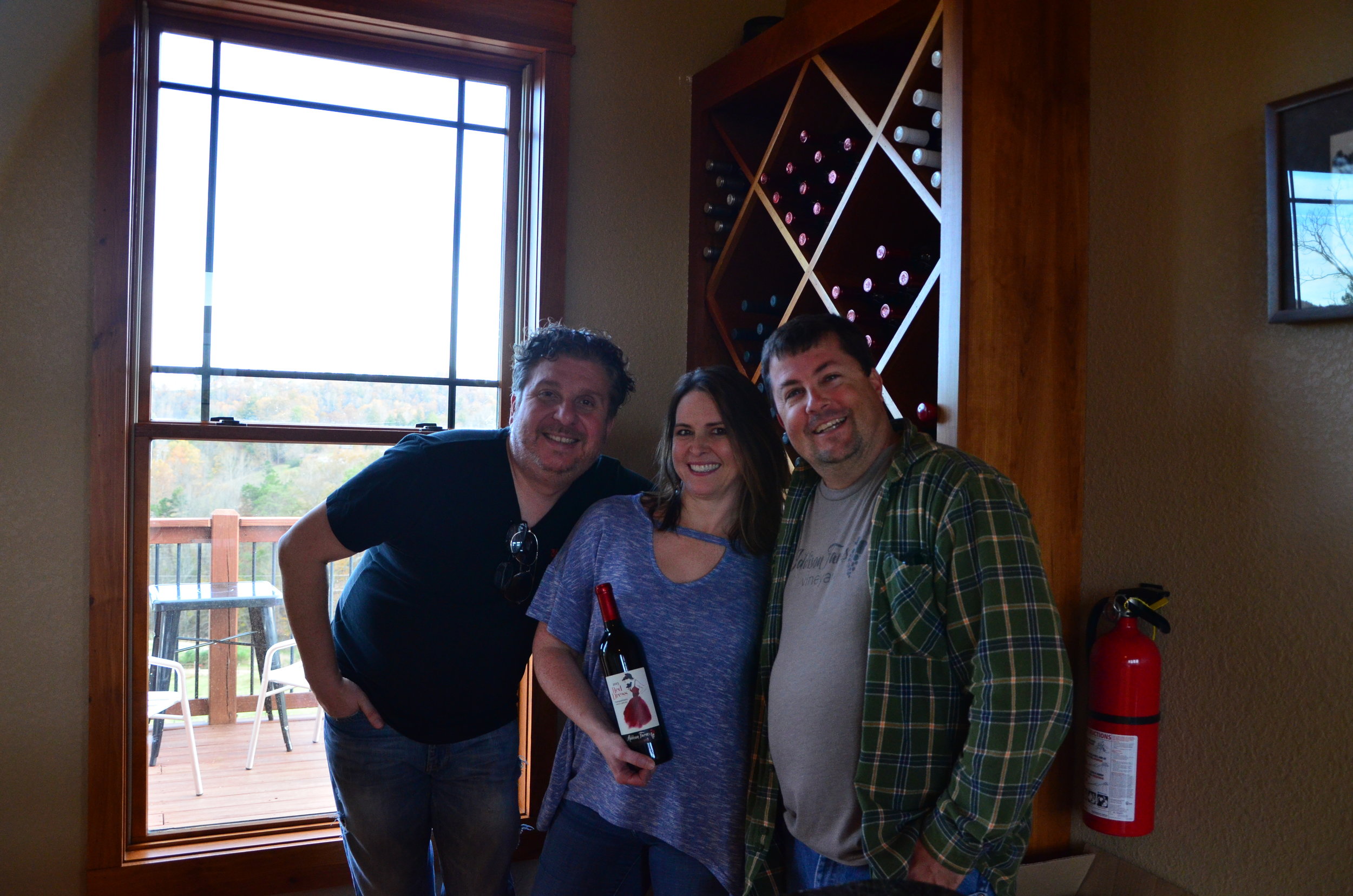 Triangle Around Town's Dathan & Jen with Jeff Frisbee of Addison Farms Vineyard